Silicon carbide giant Cree is investing $1 billion in a new mega fab in Marcy, New York, that will be a new jewel in the state's technology crown. That's big news. But there's innovation of another sort quietly unfolding across the state.
In the center of New York's Finger Lakes region, Finger Lakes Textiles in Waterloo makes cold weather headwear for the Defense Logistics Agency (DLA) in support of the warfighter. The operation, which boasts a workforce of 100 in a newly expanded facility, also offers a commercial line for the retail market called Arctic Gear.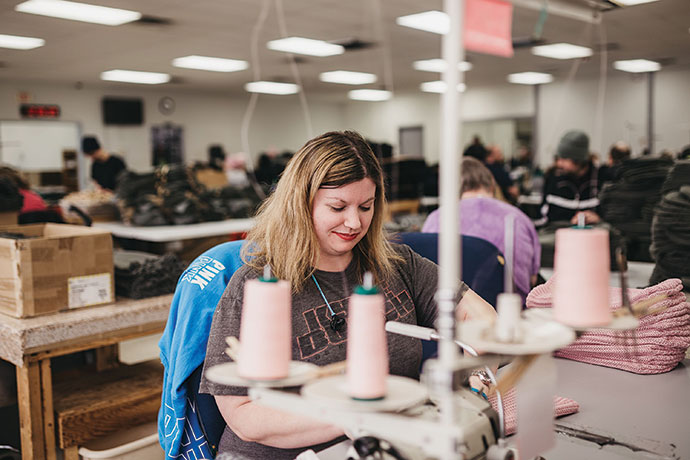 Finger Lakes Textiles is a social enterprise. That means part of its purpose is inclusive employment: Sixty of the 100 employees have intellectual or developmental disabilities. The operation is part of a network operated by Arc of Seneca Cayuga, a tax-exempt 501(c)(3) organization that employs 600 staff and supports 1,200 individuals and their families throughout Seneca and Cayuga counties.
That organization in turn is a state chapter of NYSARC, Inc., a member of the national organization The Arc and a participant in The Collaborative of the Finger Lakes, a cooperative of 12 agencies that serve individuals with developmental disabilities. With 52 chapters across New York State, The Arc New York supports more than 60,000 individuals, employs 30,000 people, and has a membership of more than 100,000.
I first learned about the program at the Manufacturing Extension Partnership National Summit in Atlanta this fall, where Pat Dowse, vice president of business development, New York Alliance for Inclusion & Innovation, and Everton H. Henriques, FuzeHub, NYMEP, spoke passionately about the win-win such operations provide.
"Sheltered workshops or work centers are no longer a preferred outcome," said Dowse of a transformation process that began three years ago. Work centers are now called transformed businesses. "Back in the day 50 years ago when people were encouraged to come out of institutions and no longer live in isolation, work centers were the way to do that. Now they need to offer opportunities for community involvement, with employment as a personal goal, as in 'I want to work, just like my brother, sister, dad or mom.' "
"I believe we are the best kept secret in the nation," says Suzanne M. Bakiewicz, vice president of business development at Arc of Seneca Cayuga INTANDEM, with offices in Olean and Waterloo. "But our value is becoming more recognized throughout the country and in the international market."
'Values Their Jobs and Loves to Work'
Keeping gear American-made is a vital rationale for the U.S. military's relationship with Finger Lakes Textiles. That same rationale is appealing to more and more corporations looking to domesticize production. In addition to the ability to outsource industrial processes (including wire harness assembly and injection molding), companies with corporate social responsibility mandates are finding engagement with social enterprises a win in more ways than one.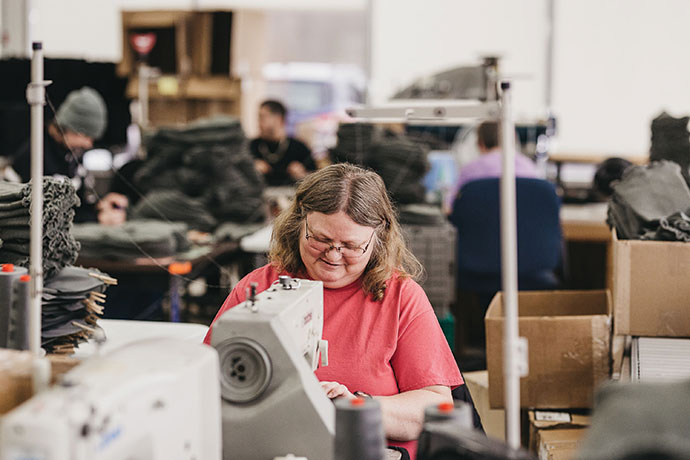 In New York there's at least one work center in every county. Herkimer Industries in the town of Herkimer provides contract packaging, industrial sewing solutions, package and product design services. Among its partnerships is an arrangement with Fiberdyne Energy to give customers a range of LED lighting solutions.
"We and our colleagues at other Arc chapters are seeing increased inquiries from corporations," says Backiewicz. "The real value that we bring … is the ability to gear up quickly, produce in tight timeframes with the highest quality and provide a labor force that values their jobs and loves to work. By subcontracting some or all of the manufacturing, assembly, and supply chain management functions, corporations can devote more of their resources to focusing on product development and core competencies of their organizations.
"Overall, the cost to the corporation is less in recruiting, training, carrying labor costs [benefits, etc.] and trying to maintain a stable workforce. We save businesses money."
A True Win-Win
The transformation of the work centers began a few years ago, following an approach called Person Centered Planning that places the goals, dreams and desires of the individual — including employment — at the center of planning for all services. In parallel, the sites have branched into many contract manufacturing and services areas such as warehousing and reverse logistics.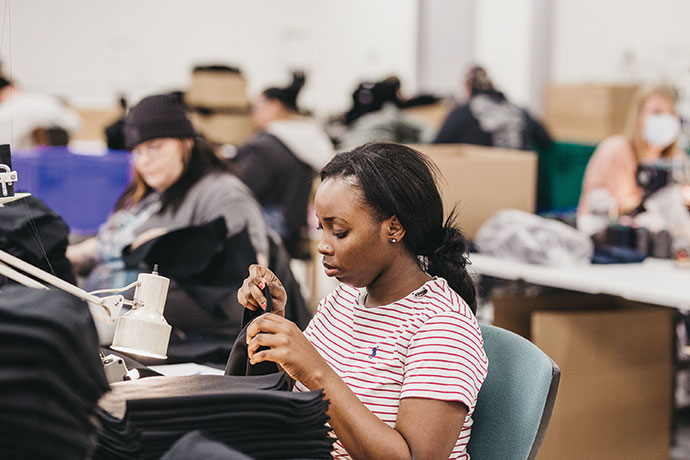 Work centers also maintain a continuum of work readiness training that includes hard and soft skills. Now that work centers are contract manufacturers, profits are important, and increased delivery of goods and services results in increased employment. "This is not what a government program usually thinks about," Dowse told her Atlanta audience.
One of Dowse's co-presenters in Atlanta, Maria Moran from IMEC in Illinois, noted that individuals with autism, for example, tend to stick to the task, don't engage with innuendo and show up for work on time. As Dowse put it, "The reality is that some of those on the spectrum can't not follow the rules." In an era of maximum worker distraction, issues with worker retention and work ethic, and the drug use/opioid scourge, such qualities grow more endearing by the day.
"I absolutely agree. Our employees love to come to work and feel enormous pride in earning their paycheck," says Backiewicz. "You see firsthand the pride and pure joy that our workers feel on their faces as they wave their paychecks in the air. When was the last time your organization saw this with their labor force?"
Might an arrangement with such an operation be viewed as exploitative rather than empowering? Quite the opposite, Backiewicz says.
---
A recent study from Accenture, in partnership with Disability: IN and the American Association of People With Disabilities, found that companies that make efforts to hire those with disabilities performed better and saw, on average, 23% higher revenue." 
---
"People, no matter the level of their ability, want to feel that they are of value, that they are needed and belong, and can also help others," she says. "Finger Lakes Textiles pays everyone the state minimum wage or higher. In the case of government contracts, a prevailing wage schedule is followed, which is generally higher than the state minimum wage."
She reiterates that the archaic image of "sheltered workshops" is now a thing of the past, replaced by fully integrated production facilities with a fully integrated view of the humans inside.
"Finally, people with disabilities are being recognized for their abilities," she says, "and can now say with pride — and often with smiles of joy — 'I have a great job!' "